Scott: After our amazing day climbing to Logan Pass on Going To The Sun Road, we rapidly descended immersed in fantastic mountain scenery and camped at St Mary CG. To our amazement, the Portland couple, Marina and Jonny, whose company we enjoyed at Avalanche Creek CG, had also moved to the St Mary CG on National Park shuttles so we had another evening with them. They were planning to climb a peak in the park back country (the name escapes me) that has 3 faces. One face drains to the Gulf of Mexico, one face drains to the Pacific Ocean and one face drains to the Arctic Ocean. How cool.
We woke early the next morning for a ride that would take us to Waterton Lakes National Park in Canada. The route looked like it was going to be pretty hard so we wore our game faces as we said goodbye to Glacier. The route started flat and as we were passing through Babb, the only town we'd see on the 50 mile route, we decided to stop at the cafe and have a second breakfast. The pulled pork omelet and blueberry pancake really hit the spot and gave us the calories for the upcoming climbing but also set us back and hour or so.
As we left Babb, we turned onto Chief Mountain International Hwy and immediately climbed and climbed and climbed. The sun was shining, the temperature was getting hotter and we still climbed. We finally completed the climb and immediately descended and then we climbed and then we descended and then it got hotter and then we climbed. A-l-l-d-a-y-l-o-n-g! At one point, I looked at the altitude on the bike computer to discover that we were over 5,000 ft – amazing. To be honest it was a spectacular day. There were amazing carpets of flowers on both sides of the road – orange Indian Paintbrush, purple Astors, pink Sticky Geraniums, periwinkle Harebells, yellow & orange Brown Eyed Susans and so many others we didn't recognize in white, yellow, red, blue, purple. Simply stunning. We were mesmerized and could hardly force our gaze from the lush swaths of flowers. Unfortunately, none of our pictures of the flowers conveyed what we were seeing. On our left flank stood the treeless, spectacularly craggy sentinels of the dry side Rocky Mountains dominated by Chief Mountain.
There was even a comedic moment. We were in open range and rode into a herd of about 30 cows roaming the rode. They weren't interested in moving as we approached (in fact, they had cars stopped in the other direction) so I decided to simulate a working cowboy and started whistling and yeehawing. It worked……..much too well. The herd started running in front of us as we rode along. I just wanted them to part and let us through but we had a galloping herd behind, beside and in front of us instead. It was funny and kind of scary at the same time.
When we finally reached Waterton Village, the temperature was soaring. We got a hotel room and collapsed exhausted, glad to be done with the ride. When I recovered somewhat, I saw on the bike computer that we had climbed a whopping 3079 ft the day after we climbed 3528 ft on Logan Pass. No wonder we were tired.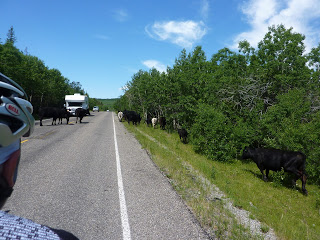 Get along little doggie.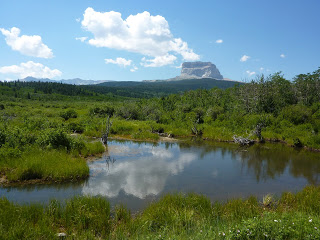 Chief Mountain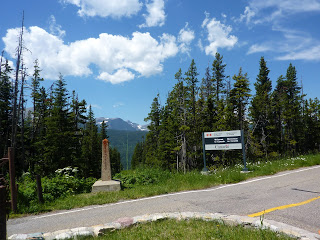 The US-Canadian border. Look closely and you can see the thin, light green border that someone has to maintain somehow.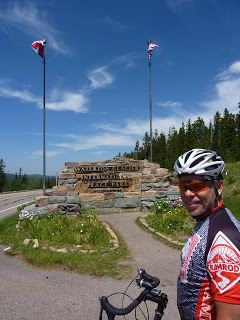 Waterton National Park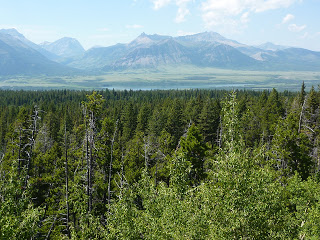 Where the plains meet the Rockies.