Karla: Many days have been challenging for me, but the most difficult was the ride from Nashua to Circle. It started out well. Pie and eggs for breakfast then an easy 30 miles with a tail wind. After that, everything literally went south. We changed direction and picked up a ferocious crosswind blowing out of the west. What had worked for us now seemed to be our nemesis as we continued on our 95 mile trek. The route took us on an up and down, rolling highway with an endless parade of long hills. As the day wore on my fresh morning legs grew old and fatigued. The temperature rose to 95 plus and the scenery repeated a view of desert-like terrain with nothing but dry grasses and scattered rocks. There was no respite from the sun and wind, no little towns, no trees, only the whish and roar of big pickups and semis as they sped by, pushing hot blasts of air against us and nearly blowing the bike off the road. I began to count down the mile posts. I counted my breaths. I counted how many hills to the mile (1 or 2 hills per mile). Each time we crested a hill, I could see another hill and another beyond that. I couldn't maintain the power over the hill so Scott would have to shift down to the granny to get us over the top, then we would coast down the other side as long as possible. Our companions tried to keep me company but as the day wore on the number of breaks I had to take kept increasing until finally, during the last ten miles to our destination, it was after almost every hill. They had to go on ahead so they, too,could make it through. At that point I started to think about what would happen if I just couldn't go on. Could Scott ride ahead without me and get someone to come back for me? Would I just sit along side the road in the sun? Should we try to stop someone to drive me ahead into town? Or could I just keep peddling knowing at some point I would reach the end of the road? Eventually my mind started creating wild scenarios of me biking until I fell to the ground, reminiscent of Laurent Fignon when he threw himself off his bike after losing the final time trial and Tour de France to Greg LeMonde by 8 seconds! Finally, after almost 10 hours of riding, we arrived at Circle. I wanted to fall to the ground but there were some bikers in the parking lot of the motel where we intended to sleep. One couple was on a tandem and they all immediately started talking and asking questions. They chattered on endlessly, giving advice and telling of their exploits, completely oblivious to my glazed over eyes and wobbly legs. At last we were able to make contact with the manager and find out that there was only one room for sure available and one room possibly available. The possibility existed because the previous nights' two occupants had gotten into some kind of fisticuffs in a nearby town and one of them was either in jail or in the hospital – so they might not still require the room for the night! After a few calls the manager was able to square things away and give us the room. I was ecstatic! The others went to get cleaned up but I simply did not have the energy and I conned the manager into driving me to the VFW bar so I could get something to eat. It was DiGiorno pizza but it was the only option in town. That, a coke and a snickers and I was starting to revive. At least enough to go back to the motel and go to bed. The next day was a rest day – by unanimous group decision!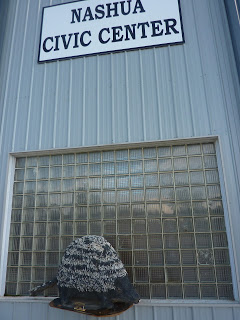 The night before the ordeal was spent in Nashua. Their mascot is a porcupine.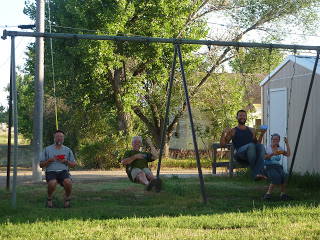 A carefree dinner in Nashua at the City Park.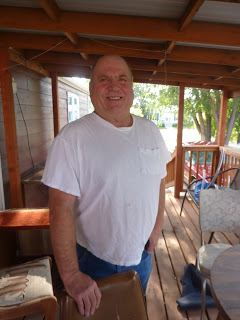 Richard Hibl offered his washer and dryer so we could have clean clothes!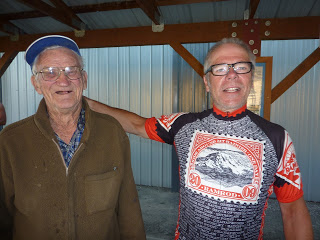 Francis Lauermeyer helped build the park where we stayed. He came by to see who was staying there in the morning.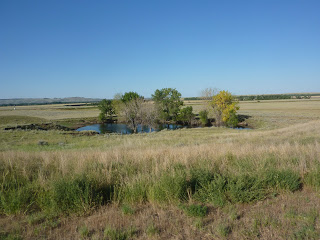 The last green we saw before we turned south to Circle.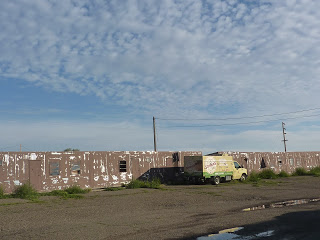 This was the only option to our motel in Circle. Remnants of the oil boom in 1930.