Scott: We have become celebrities. You can imagine the pose we strike to rural folk when a tandem and trailer carrying 2 lycra clad oldsters wearing helmets and shoes with cleats blow into town, arrive at a store, stop at a cafe, ride through a campground and so on. We must look like people from another planet to the people of rural America and Canada. "Where are you from?", "Where did you ride from?", "Where are you going?", "How far have you ridden?", "How far do you have to go?", "How many flats did you have?", "How many tires have you gone through?", "How long have you been riding?", "Doesn't your butt hurt?", "Where do you stay?", "How do you eat?", "You know she's not peddling!", "A bike for two!" (or "two bike" as stated by one guy), "Fantastic!", "Holy cow!", "I wish I could do that.", "I couldn't do that. I can't even ride a block.", "Congratulations.", "God bless.", "Be safe.". The questions and responses remain the same from every person we come in contact with. Just once I'd like someone to say something like "You crazy motherfucker. Are you out of your freaking mind?". But, alas, same boring questions, same boring answers and same boring responses. I'm really not that jaded and am truely flattered by folks' interest and well wishes but the monotony of this question & answer is making me crazy. I've even started to act like I don't see people knowing that if we make eye contact, the questions will begin. Karla is smarter than me. When someone engages her, she answers all of the questions at once. "We're from Portland, OR. We started our ride in Anacortes, WA on June 19. We've riddin 3,000+ miles and have 1,000+ miles to ride to Bar Harbor, Maine. My butt hurts and I put on chamois cream called Butt'r to help. He can tell when I'm not peddling so I can't coast." Genius. I've recently adopted a new strategy. After the initial question, I ask my own questions. "Are you from around here?", "How did this town get it's name?", "What's the weather forecast?". Sometimes this distracts any further questions but the most persistent will manage to get those pesky questions in. My favorite question and answer, though, has got to be the following exchange"Where ya going?" "Where riding to Bar Harbor." "Michigan?" What the…? Bar Harbor, MI??? There isn't even a Bar Harbor, MI. Believe it or not, this conversation occured multiple times in North Dakota and Minnesota. I'm still snickering over that.
The weather has been warm and muggy these last 6 days. We ferried across the Saint Clair river from Michigan into Ontario Canada 4 days ago. It poured all day long. We were soaking wet but the weather was so warm that we put on raincoats only for the ferry crossing. These last 4 days, we've been riding big miles along the flat terrain of the coast of Lake Erie. This evening, we're in a motel because the forecast is calling for rain tonight and all day tomorrow. It's a cold front and the prediction is for cold temps these next few days. Tomorrow we'll be in Niagra Falls where we'll play tourists for a day.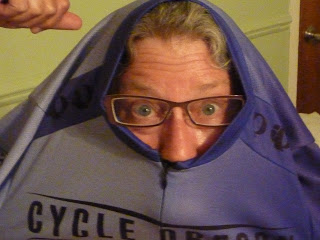 Karla attempting to ride with a lycra cycle oregon burka
Hmmm, as I recall, there's a bakery just down the road.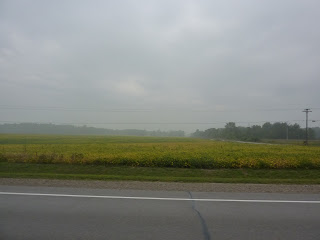 Is that rain heading our way?
Not sure but I think it's been raining all day.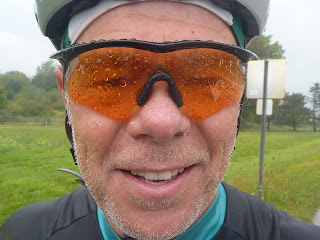 Sure feels like it's been raining all day.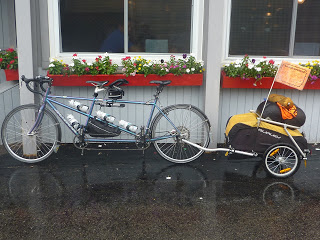 Oh yeah, it's been raining all day.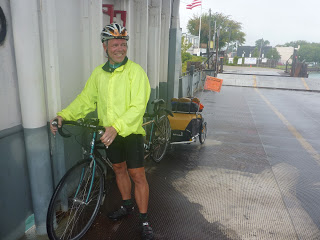 Chilling out (literally) waiting for the ferry crossing into Canada.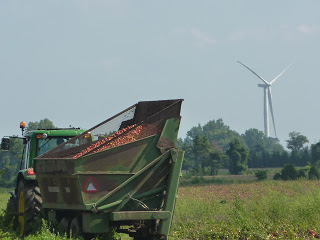 A controversial wind turbine provides a backdrop to tomato harvesting. Folks in Ontario feel that there is some kind of health hazard to the wind turbines. The same folk who drive cars and grow tobacco. Go figure.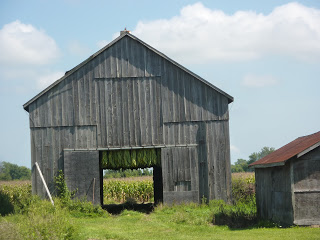 Tobacco drying in a shed.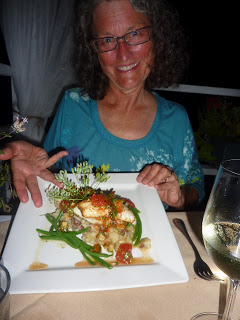 The best meal we've had on this adventure.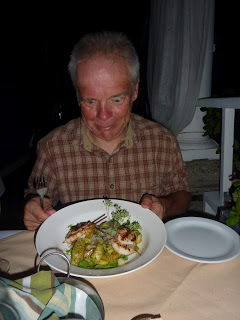 Eye popping good!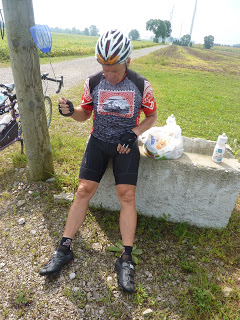 Damn pesky flies have no chance against me and my trusty fly swatter.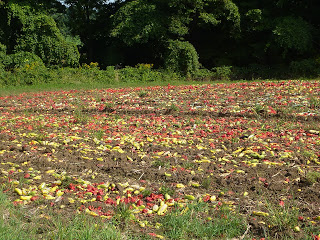 Colorful vegetables spread on a field. Compost?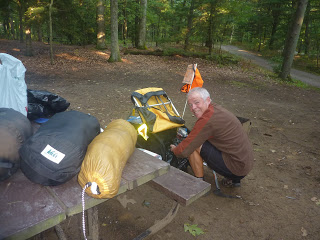 Packing up after yet another night in the tent.