Scott: We sent our home-away-from-home home yesterday. We packed up all of our camping gear and shipped all 40 pounds of it back to Portland, OR. Can you believe that, 40 pounds? Karla came up with the idea after 2 mornings of below freezing temps, 5 days of steep hills after leaving the Erie Canal and entering the Andirondacks, 1/2 day of even more frequent and steeper hills in Vermont and 2 looming steep climbs over the Green Mtns of Vermont & the White Mtns of New Hampshire. The stove, fuel, cooking pot, dishes, utensils, tent, sleeping bags, sleeping pads, cargo rack (that carried the sleeping bags and tent on the trailer), towels and various other small items all went home early. The relief was immediate. We were reborn. We were not only physically lighter but a huge weight had also been lifted from our psyches. We were giddy with our new found freedom. That feeling abruptly disappeared 5.5 miles later when we began the climb over Middlebury Gap in the Green Mtns. The route immediately transitioned from flat to 14%. After 1/4 mile of this gristle popping, lung bursting, uphill grinding, the slope slacked to a mere 11%. The gristle continued to groan, we continued to wheeze and our new found lightness had evaporated. We were on a serious climb. Just as suddenly, the slope slackened to 6% then flattened and went downhill. It became gentle, rolling, 4-6% climbing for the next 6 miles or so. The final 3 miles stiffened again to 12% and we suffered; but, like a horse heading for the barn, we had our crosshairs set for the top and we were soon cruising downhill, happy that we can conquered the Greens.
Today, we had a late departure from the wonderful Huntington House B&B in Rochester, VT at the base of Middlebury Gap. There was a light drizzle and the forecast called for heavy rain and high winds by afternoon. Our plan was to get a few miles under our belt, then, by early afternoon, find a place to stay and hunker down. The high winds never materialized, but the heavy rain began soon after our departure and at 17 miles we were soaked and cold. We sorely regretted leaving the Huntington House and were kicking ourselves for our poor decision. We retreated with our tails tucked between our legs to the only lodging that we could find for miles around. When we arrived, the B&B hosts told us that another cross country biker and his wife who was accompanying him in a van were arriving the same day. We looked at each other. That must be the 70 year old we had just met along the Erie Canal. The hostess became concerned. She had reserved the best room in the house for them but thought that they might have some difficulty climbing in and out of the four poster bed. So, she gave us the room. The couple turned out to be Bill and Laurel from Colorado who were about our age. Bill is a stud and getting in 80 – 100 miles a day. He's also riding the Northern Tier, and had left in August, a full month and a half after us. Oops, our bad and our good fortune. The four poster bed has been way comfortable. Turns out, we have gotten along well with them and are even talking about exchanging houses for a couple of weeks next summer. Fate works in funny ways.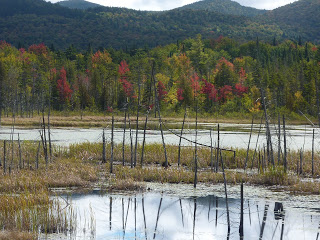 The colors were just starting to show in the beautiful Adirondacks.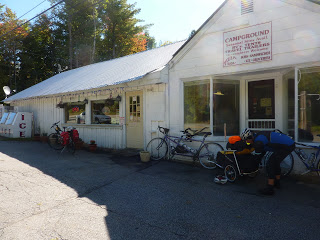 Our last camping spot. It was in the middle of nowhere in the Andirondacks and run by a Italian family from NY, NY.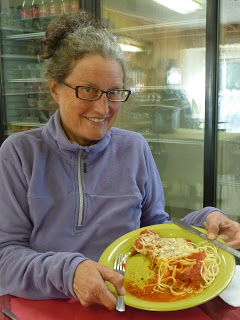 And they served the best eggplant parmigiana that we've ever had.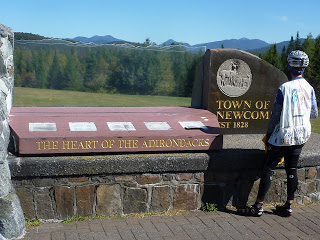 You can see most of the major peaks of the Adirondacks from this vantage.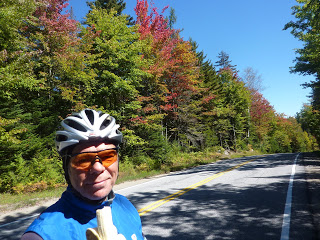 Chilly but beautiful, sunny scenery in the Adirondacks.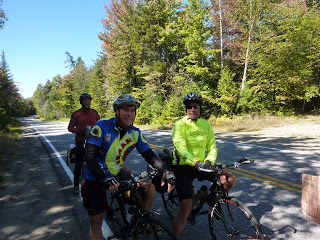 We even met some fellow bike travelers there.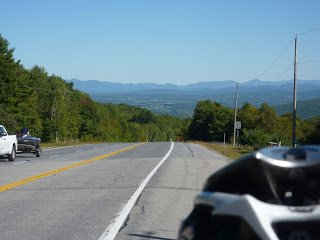 Heading down toward Lake Champlain with a view of the Green Mtns in the distance.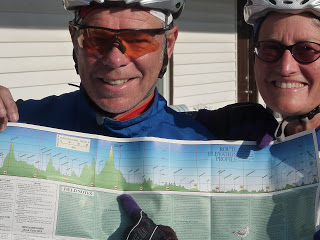 Our last Northern Tier map. We're almost done. Only 400 miles to go but those mountains look daunting.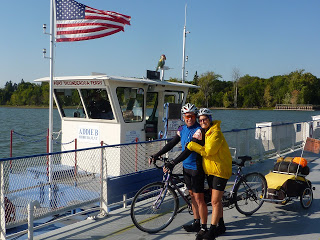 Crossing from New York to Vermont across Lake Champlain. That girl has some bikin' legs.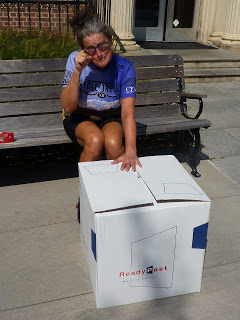 Bye, bye camping gear. All 40 lbs of you.
Our new light weight configuration.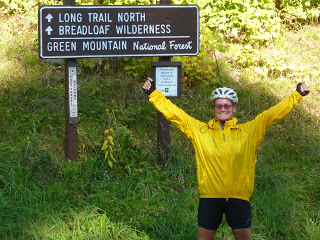 Karla is happy to be at the Middlebury Gap.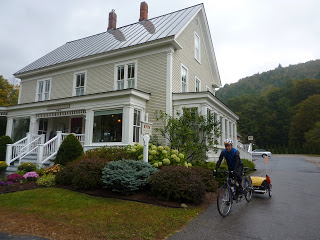 Leaving Huntington House in a light drizzle. Where's my stoker? Probably taking a picture or something.