Scott: Two days into our ride and I'm already looking for stuff to send home to lighten our load. Do we really need that frying pan? Yeah, we used it last night to cook up hamburger for our spaghetti feed, but did we really need hamburger in our spaghetti? What about the netbook (yeah, the one I'm typing this on)? We can live with the every-other-letter fat finger when we blog from our smart phones, right? We'll just have to blog with no photos (since we can't download our camera to our phones) or we'll just use the crappy cameras in our smart phones. That pile pullover and pile vest can go. I'll just wear my sweaty bike stuff when I get cold. Karla says if we get rid of all the plastic bags we're not using we'll probably lighten the load by 2 pounds. Washington Pass and 4,000+ feet of climbing looms ahead and I can't keep my mind off of the weight of the trailer but I just can't let anything go……yet.
We've decided to start off slow to give ourselves time to acclimate to the bike touring life. We rode 51 flat miles yesterday to Rasar State Park and the hordes of ravenous mosquitoes. Today we rode in glorious sunshine and warm temperatures staring at the snowy peaks of the North Cascades and covered 38 miles. Tomorrow we'll ride only 25 miles but will camp at the last campground before the 24 mile climb to Washington pass – gulp.
Karla: Note to self: leg warmers will not sag nearly as much if you don't wear them side-ways.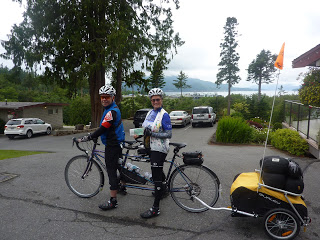 We start our adventure in Anacortes.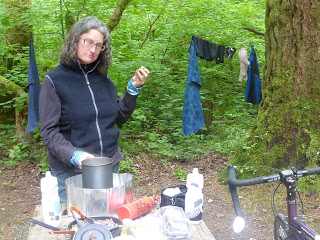 Should we eat the broccoli now or should we add it to the spaghetti?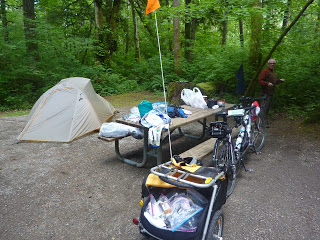 If you look closely, you'll see the squadrons of mosquitoes strafing us at our first campsite.