Scott: The Nomad trailer that we'll be pulling is fairly spacious and will carry up to 100 lbs but just shoot me now if we fill it to capacity. By far, the heaviest and bulkiest gear that we'll need on our trip is the cooking and camping stuff. Of course, we're only taking backpacking gear but we're still faced with the difficult task of balancing comfort with weight & bulk. Do we take a frying pan and extend the kinds of meal we can prepare or do we make do with the 2 person (read small) backpacking pot? We're taking the frying pan and the pot. Do we take the blow up Therm-a-rest mattresses or do we take the heavier & bulkier but warmer self inflating mattresses? We're taking the blow up versions. Do we take a 2 person tent (lighter) or a 3 person tent (more room). We're taking the 3 person. And the decisions go on and on. Here's the list: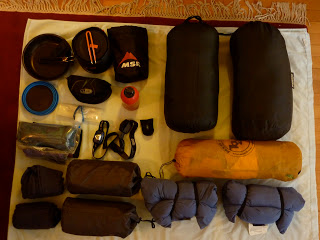 • Big Agness Fly Creak 3 person tent (3lbs 10oz woohoo!)
• Tent footprint
• MSR Whisperlight International stove
• Fuel canister + fuel
• Lighter
• GSI Pinnacle Dualist Cookset
• REI Campware 8″ nonstick frypan
• GSI Crossover Kitchen Kit
• GSI Outdoors Ultralight Java Drip Coffee Maker
• Cutting knife
• Head lamps X 2
• Pillows X 2
• Sleeping bags X 2
• Therm-a-Rest NeoAir Pad X 2
• Backpacker towels X 2
• Backpacker clothes line
• Platypus 2 liter soft water bottle
• Campsuds 4 fl oz
• GCI Outdoor soft cooler
This last item is the most controversial. It's light but slightly bulky and will allow us to carry perishable food for some goooood cookin'. Is this really necessary when wee can simply stop at a grocery store (when available) and carry the perishables the short distance to our target campground. But, but, but how do we keep the beer cold????