Scott: Holy cow, it's been 10 riding days, 1 rest day and 598 bike miles since we last blogged from Harlem, MT. We're now in North Dakota but I'll begin this segment from the end of our last blog.
Our route through the great plains of Montana generally followed State Route 2 through many miles of remote fields of hay and wheat interspersed with the occasional small farming community. Many of these communities had a city park that offered cheap camping with water, grassy areas for tents, covered picnic tables for cooking and, unfortunately, no showers. It was so remote that we never had wifi, rarely had cell data and even didn't have cell phone at times. It's incredible to think that we had better connectivity in SE Asia than we had in northern Montana. The terrain was flat to rolling, the traffic was moderate and every now and then, the ACA route that we were following took a low traffic loop off of SR2. The shoulders varied from non-existant to wide. However, the big problem was the prolific presence of rumble strips. We were often forced into the traffic lane because the rumble strip encompassed the entire shoulder. Only when the shoulder was wide and the rumble strip was placed close to the traffic lane, could we ride out of harms way. Quite honestly, the complete disregard for the safety of bicycle traffic on a national cross country bicycle route was maddening and incomprehensible.
SR2 generally followed the Milk River in Montana. The Milk runs through a very large drainage that was once that of the Missouri River and whose path was altered and pushed further south by glaciers from the last ice age. It's a cool story but that dang Milk River was our bane because it supported hordes of the most ferocious mosquitoes that I have ever witnessed. Unlike most mosquitoes that hover a bit before landing and attempting to bite, these suckers would rapidly attack and bite before we knew what hit us. I'd look up for a moment then look down at my legs and there would be 5-8 drilling for blood. It was horrendous! The only way we could rid ourselves of them was to hide in our tents or ride our bikes. The minute we stopped the bike, the critters would be on us – in windy, hot, dry country mind you. It was crazy.
During this passage, the daytime temperatures were beginning to creep up and hit unusually high temps (mid 90's) for this region. It wouldn't get really hot until late in the afternoon but if we got out of camp late cuz we were lollygagging over our morning coffee or we'd stop for a 2nd breakfast at cafes we couldn't pass, we'd end up riding in the heat late in the day. Ack.
After Harlem, we camped in the Malta, MT city park. No showers but we took spit baths at the water spigot. We found an actual Dairy Queen on the edge of town and pigged out on ice cream concoctions. This is where I began my current addiction of rootbeer floats. We also discovered a dinosaur museum that was a working research station. Turns out, Montana is full of dinosaur bones and is prime pickins for paleontologists. Whodathunk? We also ran into a group of 4 bike tourers who were heading east and fighting a headwind that was our wonderful tailwind. They were having such a hard time that at 4:00 in the afternoon, they had only ridden 18 miles and were planning to wait until the wind died down, as it did every evening, then riding until midnight or so. Yikes! I'm so glad we were heading east.
The next day in Hinsdale, MT, we were invited to stay the night in the village church. It was great. We had the place to ourselves. We threw our pads and bags on the carpeted floor in the basement, laid out our wet tents to dry from the previous nights rain and cooked up brats (hand made by a craftsman in the previous town) and beans in the kitchen. Best of all, we could walk around mosquitoe free. Yeehaw! We also missed a rip roaring thunderstorm that night. This town was great. Everyone was super friendly. The business section was composed of a convenience store, a bar the served food and a coffee shop that served killer ice cream. I was able to further explore my rootbeer float addiction here and the next morning we were served the most spectacular caramel rolls I have ever had. They were made the night before, raised over night and cooked that morning. Oh so gooood!
Nashua, MT, was our next day's stop. It was a good thing too because no sooner had we turned off toward town, we found …..wait for it…… an ice cream store! Oh yeah, it's time for a rootbeer float. Yessssss! While sitting in the store enjoying our well earned ice cream, floods of locals came to the store seeking relief in ice cream from the sweltering heat. We had conversations with many of them. We asked if there was a laundramat in town so we could wash clothes; there wasn't but a local offered his washer and dryer for our use. Once we set up camp at the city park (no showers again) we walked to his house and washed clothes. So nice.
From Nashua, the route traveled east for 30 miles then turned south for another 65 miles of no services to Circle, MT. The wind was howling out of the NW so we decided to go for broke the next day and ride all the way to Circle. Karla will provide details in our next blog.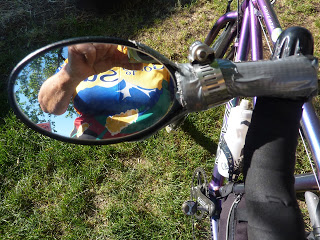 The mirror broke when a gust of wind blew the bike over but a whole lot of duct tape and a hose clamp fixed it up.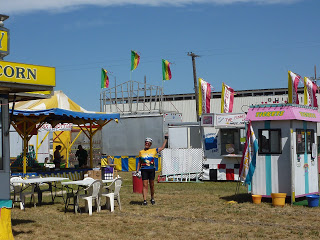 We tried to get some snow cones but this carnival didn't open until later that day. BooHoo.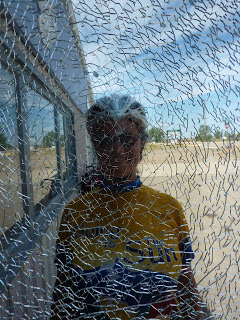 Karla cracks me up.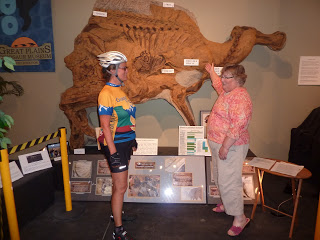 Karla gets some info on the dinosaur mummy which is a very rare phenomenon.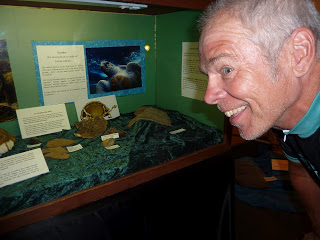 Oh boy! Turtles have fossils too.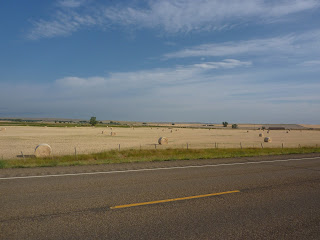 The desolation of northern Montana. You see those damn rubble strips in this picture too.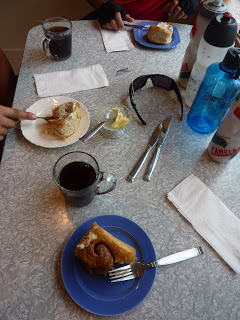 The best caramel rolls ever!