Karla: I am so glad Scott has finally recognized he must accede to my wishes about schedule. After all I am called She Who Must Be Obeyed….We are having a day off the bike and even he admits it feels good to be lazy. It's a chance for me to take Advil and apply ice while reading, doing wash and reflecting. I'm also going to repair our flag. We started out with the factory issued Burley flag on our trailer which mysteriously disappeared on the leg between Winthrop and Twisp (don't you love that name?). When we stopped to read the map and decide where we would camp, we noticed the top half of the pole to which the flag was attached was gone. We had no idea how it had happened, but guessed it was the ferocious winds that whipped it off as we wended our way along the high plains route. On our way to the campground we stopped to do our daily shopping. This means one of us wanders the aisles looking for inspiration while the other stays outside with the bike. As I was cruising the meat section one of the guys behind the counter asked if he could help me find something. I explained what I was doing then added our flag story as way of making conversation. He asked me to wait a bit as he had an idea. In a few minutes he came back with a neon orange sign used for pricing items on sale and some clear packing tape, then disappeared behind the counter. I chatted with the other butchers as I watched him bent over the chopping block. In short order he proudly handed over our new and improved " As Advertised " plastic encased flag! Such a nice guy to help us out and he really seemed to have fun with it . Jackson, from Hank's Grocery, you are da man!! Once we attached the flag to the pole we noticed big thunder clouds rolling up, so we hopped on our bike and rode like the devil for the campground two miles away. We managed to make it there and get in line to check in as big drops started to fall. We thought for sure we would be setting up in rain, but by the time we had completed our paperwork the storm had moved through and the sun was shining on our most beautiful campsite yet. The Methow River lapped the bank a few feet from our tent and the quacking of ducks was our alarm clock!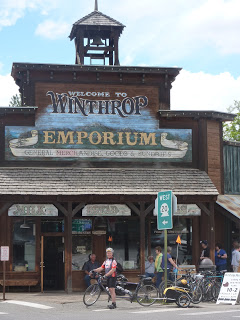 The last time we saw our flag proudly waving.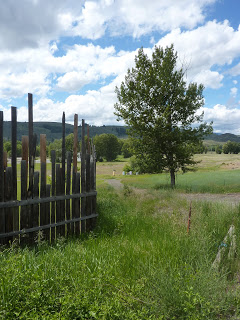 A beautiful but windy road to Twisp.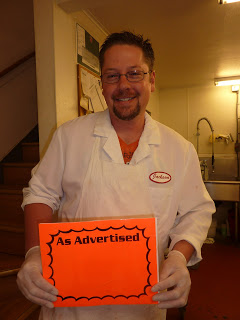 Jackson, he's our man!