Scott: Short blog today. We're getting kicked out of the free wifi store and there's none at the campground. We crossed Wauconda pass yesterday and Sherman pass today. Beautiful scenery and warm, sunny weather. I'm beginning to feel stronger although my legs are a bit toasty after the 2 passes in 2 days. We've synced with 4 other parties doing various pieces of the Northern Tier. 1 guy going to Milwaukee, WI, 4 high schoolers going to New York, a party of 2 couples, two of which are going to New York and 2 are returning after Glacier NP and a father and 12 year old son going to New York in tennis shoes and flat pedals mind you. You can get a sense of the fun we're having through the photo captions.
Karla: Can't believe I did back to back passes in two days! Breathing helps!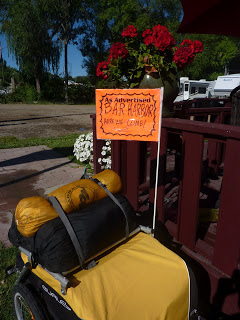 Karla: Here is our new and improved sign; it says "Bar Harbor here we come!" Thank you, Jackson.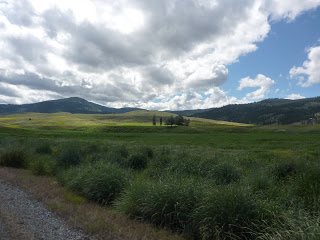 Karla:The air smells clean and fresh, and the spaces feel wide open.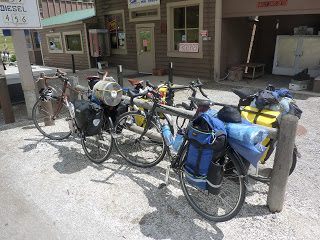 Karla: These bikes belong to four boys, ages 16-17, who are biking from Anacortes to New York. They share the load on their bikes and do "Rock,Paper,Scissors" to decide who is cleaning up the cooking pan. Yes, that's the pan on the back of one of the bikes!
Scott: Hilarious. They're even carrying a floor pump. What an adventure for 4 friends who will be seniors in high school.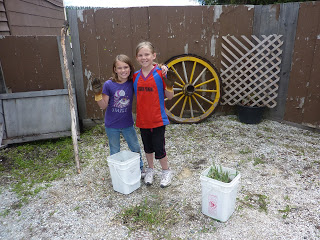 Karla: The most adorable girls I've ever met and a great example of collaboration – notice each one has on one half of a pair of gloves so they can pull weeds together. Madelaine and Aleana are sisters with a summer job.
Scott: Cute, cute, cute and just talking away.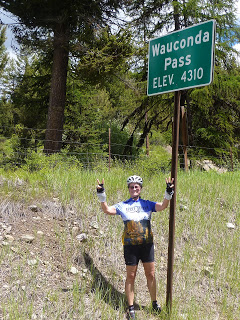 Karla: Victory over Pass number three.
Scott: This was the easiest pass of the four.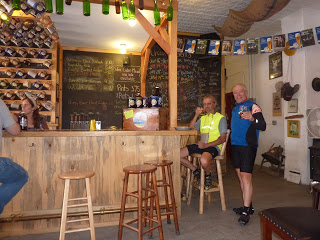 Karla: Scott with Bob, a rider from Milwaukie, at the Rebuplic Brewery . The beer was great!
Scott: I so wanted to spend more time here. The beer was fantastic and jabbering with the locals was a hoot.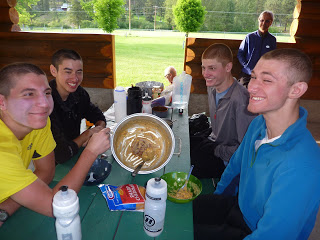 Karla: The boys have finished their one pot dinner: mashed potatoes, canned corn and baked beans.
Scott: These youngsters are bottomless pits and will eat anything….obviously. What the hell is that glop?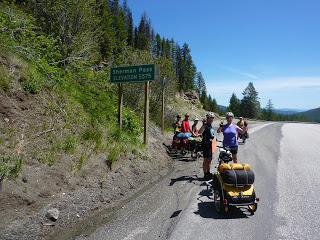 Karla: Victory over Pass number four!
Scott: Most of the folks from the groups we've synced with. We somehow all arrived at the pass at the same time.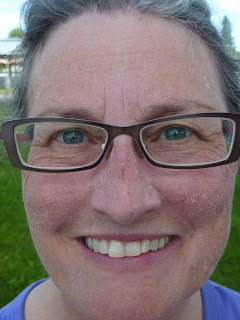 Karla: That white stuff on my cheek is salt from sweating after our Sherman pass climb
Scott: I wanted to lick the salt from her face but she wanted to keep it all for herself.