Karla: Only three days since my last post but it seems like a lifetime in a way. Probably because I climbed the most challenging mountain (so far) and the one about which I was most worried. But, more on that later. Two days before my epic feat I was enjoying some absolutely fabulous barbecue at the Que Car BarBeQue. We happened to pass by their location in Marblemount on one of the days they were open and boy, what a treat! Not only an interesting venue in an actual caboose, but really fine home-smoked bbq pork sandwiches and homemade cold slaw. I gave myself permission to eat all I wanted, knowing I needed to carbo load in prep for the Big Pass. As I was still very concerned about making it over the Big Pass, I again made sure I had adequate nutrition on board the next morning by eating biscuits and sausage gravy at Tootsies. This place came highly recommended by a local thus we had to backtrack a couple of miles to try and find it. We thought we had missed it so I went inside a little cafe named the Eatery to ask where Tootsie's was – the lady at the door said, "I guess this is Tootsie's, she's sitting right there," and pointed to an archetypal cute little old lady with white hair who was smiling up at me. She was adorable and I was able to learn a little of her history. Her grandparents were original settlers of the area, and her parents had opened Clark's Cabins and Roadhouse there in 1942. Tootsie was a local celebrity and there were many photos of her and the family all over the walls. Her most prized possession was a flag made by her grandmother which was the first to fly over Marblemount after Washington became a state. The stars were donated by the local miners! The most fun she had was on Saturday nights when the whole town would turn out at the Roadhouse to dance to a band called The Three Blind Mice. She said, again with a smile, she had had a "real good life".
After my time with Tootsie, we finally got underway. The route took us through more of the beautiful Skagit Valley with oodles of lupines, columbines, foxgloves, paintbrush and so many more I couldn't name lining the road. It felt great to be on the bike. So great that for a brief period we entertained the idea of going all the way over the Big Pass. Thank God there really wasn't enough time to do that because I would not have made it over that day. In fact, the only thing that got me over it the next day was counting breaths. Seriously, the final three miles up to the pass I spent counting my breaths from 1 to 64 and then back from 64 to 1. "Why 64?" Scott asked. "My age – I made it 64 years, so I could make it 64 more breaths." It was quite a feeling of exhilaration to reach the top! There was some spectacular scenery on the way up: crashing waterfalls from snow melt with an arctic blast of air as you rode by, rings of snow-capped peaks and fog resting on towering evergreens. But, the best of all was that dang summit sign!
Scott: Today Karla needed to take it easy after the Washington Pass epic, so we rode a relatively moderate 28 rolling miles Mazama to Twisp. Tomorrow we tackle Loup Loup pass at 4,000+ ft that starts right out of Twisp and climbs for 12 miles. Woohoo, here we go again.
Carpets of lupine on the way from Marblemount to Colonial Creek Campground.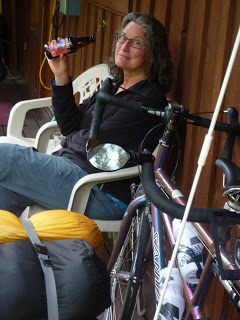 I earned this re-hydration on the Big Pass!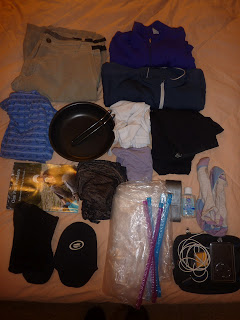 Yup, we sent a bunch of stuff home, including the FRYING PAN!