Scott: We're in a hotel in Waterton Village in Waterton Lakes National Park, Canada and finally have internet access, so we've decided to write blog entries as if current and post date it.
To follow Karla's last blog, we left our cabin and stopped again at the On The Fly Cafe for a hearty breakfast to power up for our ride to Whitefish, MT. When we arrived in this cute tourist town, we stopped at the first bike store we rode by to buy, drum roll please, chamois butter. Yes, our butts (and other unmentionable areas) have some raw spots. As luck would have it, Ted Forgeron, a Portland biking friend, was in Whitefish to start a loaded tour led by Adventure Cycling (the non-profit that makes the maps we're following), and we ran into him at the bike shop. We had a few beers with Ted and he invited us to camp with them. Free is a very good price.
The next day, as we prepared to leave, I noticed a critical screw was missing from one of my pedals. I couldn't ride very far without this screw. Strange, in all my years of riding with Speedplay pedals, this has never happened. We returned to the bike shop but it was Sunday and the shop was closed. Dang! Ok, we asked around and there was an outdoor store in town that sold bikes. Cool. The hours posted on the door indicated that they're open but the shop was closed. We hung around for 1/2 hour or so but no one showed up. I started going though scenarios of waiting in town until tomorrow when the bike shop would be open or, even, ordering new pedals on line and overnight shipping them to us in Whitefish. Karla asked around and discovered another outdoor shop that sold bikes. They were really nice, accomodating and confident that they could find a replacement. They couldn't, but suggested we try the Ace Hardware store in town. With nothing to lose, we head there. A really nice sales guy was helping us, but while there were two full rows of nuts and bolts, they don't have the screw in the right length. By now, a crowd of Adventure Cycling folks have formed around the bike in front of the store. Some are digging through their spare screws trying to find one that will work and others offering advice on how to fix it. One guy suggested we grind the long screw down. The Ace store has a grinder and the nice sales guy kindly ground it down to fit (in fact, he ground down 2 for a spare)t. Hooray, the fix works.
By now, it's 1:00 pm and we head out for Glacier National park. We rode through the extreme heat of the day (a heat wave has hit western Montana) but the terrain was reasonable and the mileage short, so we made it to our destination uneventfully. We're not yet getting very good views of the Rockies, just occasional small peeks at the peaks, but we're anticipating some spectacular beauty. We camped at Fish Creek campground in a hiker/biker campsite. Glacier park has 5-8 hiker/biker campsites in every campground that are kept open for only hikers, bikers and motorcyclers. This was a boon to us since the campgrounds with the showers were always full. The next day's ride will be a really short one since we'll be staging ourselves by camping at the last campground (Avalanche Creek) on the the Going-to-the-Sun Road before the big climb to Logan Pass.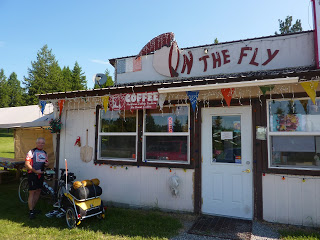 Funky with standard coffeeshop fare but oh so yummy.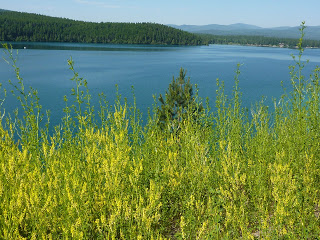 We've passed large swaths of sweet clover which is simply beautiful against the backdrop of these lakes and mountains. Montana is legendary for its sweet clover that gushes nectar for a couple of months. These plants should be alive with bee activity but, sadly, we never saw a single honey bee and only a couple of bumble bees. Something is very wrong and it saddened us.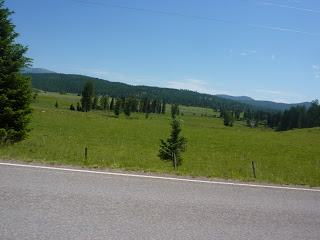 Another Adventure Cycling side road with limited traffic and the spectacular pastoral scenery of Montana. On the way to Whitefish.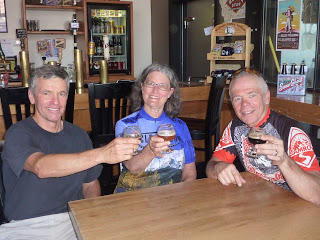 Sharing micro-brews with Ted at Black Star Brewery.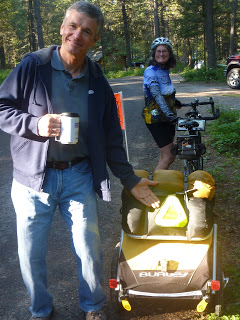 Ted's contribution to our tour. We feel safer now.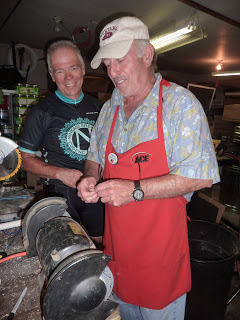 The nice Ace Hardware sales guy, Parke, helping us out. Parke met his wife at Timberline on Mt Hood when he led a ski team at a ski race there.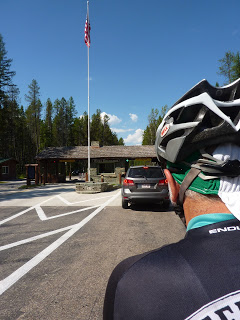 Glacier National Park!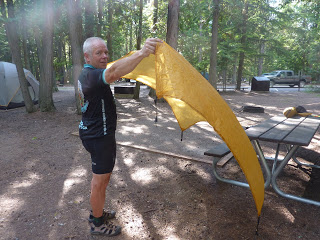 Setting up camp at the hiker/biker site.