Karla: Hey, everyone, we are still alive and well but have not been able to post for quite a while due to no internet and minimal cell connectivity. We will do our best to catch you guys up. The following is a post I started previously:
Well, it finally happened, we got chased by a dog! It took us by surprise, though. We had followed our map which led us up a little-used, gravelly, pot-holey road and it was beautiful. Woods on one side and a view of the Kootenai River and mountains on the other. We were lost in a tranquil reverie, one with nature and the bike. There hadn't been a soul in sight when we saw a pickup truck parked ahead. We focused our attention. As we got closer we saw a man behind the wheel and a big black dog outside the truck with his front paws hanging over the driver's open window. His master was scratching the great head behind the ears. "Ah," we thought, "what a thoughtful guy to call his dog over so we can pass safely by." We drifted back into our dreamy state and the oneness with the Universe. Suddenly, our Zen-ness was shattered by the clarion howl of a beast on the hunt. The dog had launched himself after us and we were prey in his sites. "Ride!" I screamed, "Hard!" I screamed louder and we put maximum effort to the peddles. Scottie clunked it into a higher gear and the bike spit gravel as we attempted our get away. The freight train with its caboose gradually accelerated. The dog accelerated. We rode even faster. The dog ran even faster. My eyes were glued to my mirror and I swear he was gaining! Just as we thought we were goners, Scott tried a last-ditch stratagem – he turned and yelled "NO! Go home!" in the fiercest voice possible. Abruptly, the dog slowed, then turned and trotted back to his owner in the truck. We were amazed and not a little shaken as we dropped out of warp speed and back into touring mode.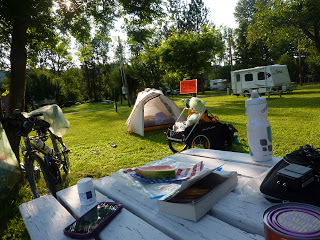 The essentials for our bike trip: bike which doubles as clothes line each night ,tent, trailer, water bottle ,
computer, can of beans, book, fruit, cell phone and Advil.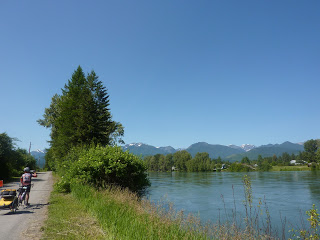 Kootenai River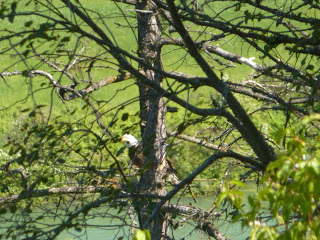 Bald eagle, one of what looked like a mating pair . Their squawking caught our attention .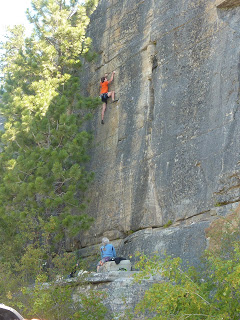 We had to stop for a few moments at Stone Hill so Scottie could talk to the climbers.
Our first glimpse of big sky country.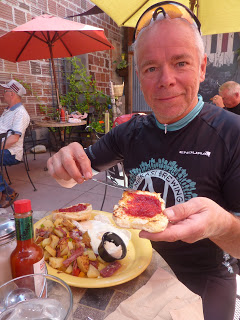 A local directed us to the best restaurant in Eureka, MT, Jax Cafe. They come from as far away as Kalispell just to get the huckleberry shake!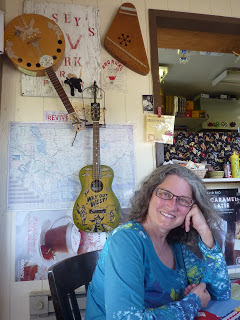 On the Fly Restaurant was just two miles from our cute little cabin. The couple who run it gave up their 9-5 jobs in Houston to live their dream.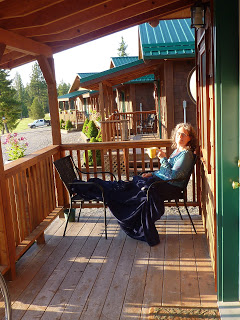 Morning coffee and a view of the countryside waking up from our Grave Creek Cabin.