Scott: It's Karla's turn to blog but she's at an exciting part of her book and would rather read than blog. So, I'm going to skip the section that she was going to blog about and catch us up. Karla will post about Waterton Lakes and Lilly and Curt's visit at a later date. You'll want to read that cuz we had fun and saw some cool stuff.
I'll start this little story in Crooked Creek campground outside of Waterton Park. Yes, I know, you don't know how we ended up there but Karla will explain later. To our surprise, after spending a day in this CG, Karla and I ran into Eric and David Sassaman, a father and son team riding to Michigan. The last time we saw them was in Sandpoint and here they were again. We left camp the next morning with them and have been riding with them since. We're a team of four now. It was a short ride to Cardston, Alberta, Canada from Crooked Creek, but it rained most of the way and we decided to get a hotel in this weird town that is dominated by an LDS temple. The town is dry and we couldn't even find a much deserved bottle of beer – sheesh! We decided to get a hotel room and dry out (ah, the irony). The prices were high but the kind guy at the front desk gave us a room with 2 queens in separate rooms and a shared bath for cheap. We went for it. Now the four of us were roommates, too. They also allowed us to take over a conference room and spread our tents out to dry since they were soaked from the previous night's rain.
Up to this point, Karla and I have not been making great time. We had planned to average 50 miles a day. However, we've only averaged about 38 miles per day. Quite puny but I had committed to letting Karla dictate our pace and those first 4 weeks were pretty strenuous and required ongoing fitness improvement as we progressed on the tour. However, things were about to change. From Cardston, Alberta, Canada, we had entered the high plains of North America. Not perfectly flat but, certainly, way, way flatter than the 4 weeks of mountains we've just gone through. Better yet, the prevailing winds of this regions whale off of the Rockies and rapidly sweep east. The wind is at our backs baby! Here's what we've accomplished since Cardston:
7/15 Cardston – Cut Bank, MT 74.50 mi
7/16 Cut Bank – Chester, MT 68.31 mi
7/17 Chester – Havre, MT 63.63 mi
7/18 Havre – Harlem, MT 45.55 mi
That's a total of 252 miles in 4 days for an average of 63 miles per day. Woohoo.
In Chester, we stayed at the city park for free on a wonderful grassy spot in the city park that isn't watered until 9:00am so that bicycle tenters can leave dry. They provided bathrooms, covered picnic tables and a gas grill for cooking. So cool. Chester is only a community of a couple hundred people but they were super friendly. This is a happy town. Every single car driving down the street past us would wave hello. We walked a mile to the supermarket for dinner food and a local picked us up and drove us back to our camp site. She pointed out the Chester museum which was open that evening and we visited it after dinner. It was quite an experience learning about the history of Chester and poking around among the rooms of artifacts. We discovered that Chester and all of the towns that we're riding through are the result of the Great Northern Railroad (also called the Empire Builder) that helped "settle the west" for the white man and, unfortunately, disenfranchised the Native Americans. The railroad is still here and we've watched many trains and listened to their whistles all across this part of Montana. We've even taken to pumping our arms at the trains to get them to toot as they pass us by.
In Havre, we stayed in a dorm at Northern Montana State University. Wow, I'd forgotten how scuzzy dorms are. That place was filthy but we slept indoors for $10.00 each and didn't have to set up our tents. It was a good thing too because a huge, magnificent thunderstorm rolled through with fantastic, huge lightening strikes and thundering rain. A fantastic show but I sure was glad we weren't huddled in our tents.
Today, in Harlem, we're camping for free at another city camp site next to city hall. They've left the front doors open so we can use the bathrooms. They left the door unlocked to the air conditioned conference room so that we can get out of the heat and away from the bugs. And gave us the password to their WiFi so we can get online. Behind the city hall is a city pool and we've all take showers there for $1.00. Unbelievable.
The beautiful high plains of North America. Soggy on this day.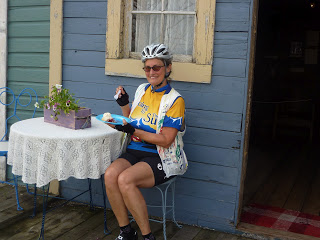 73 miles of no services between Cardston and Cut Bank and we found a little shop with homemade strawberry pie and ice cream. Yippee!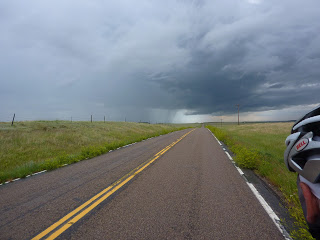 We dodged thunderstorms between Cardston and Cut Bank. Oh, and got soaked several times too.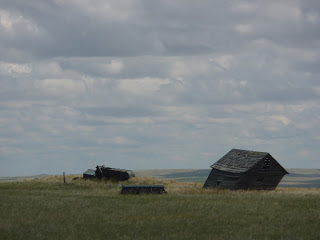 It's homesteader country along our route in Montana thanks to the Empire Builder.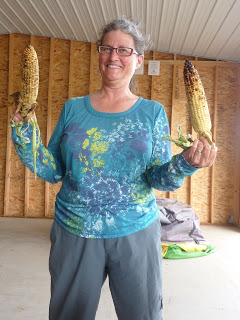 Corn on the cob cooked over a gas grill. How lucky is that?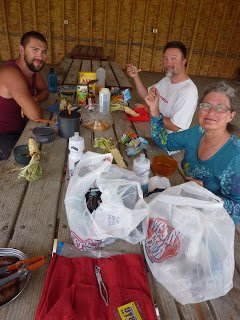 Brats, corn on the cob, salad and good company.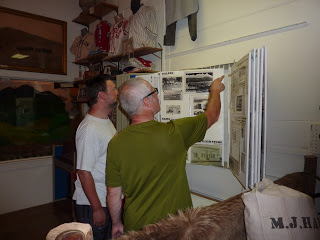 The Chester museum.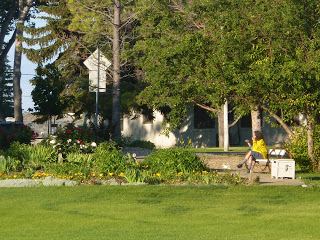 Contemplative Karla sipping morning coffee in the Chester city park.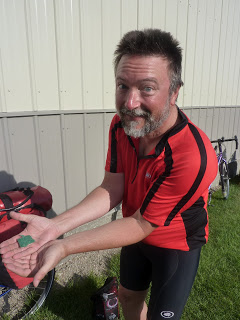 Eric found Mr. Scrubby that he thought was lost and was over joyed. He and Mr Scrubby have traveled many miles together.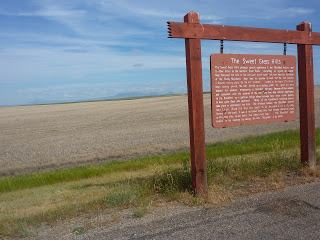 Yes, there are mountains in the Great Plains of North America.This sign told us of the Indian legend about "blood-clot-boy" associated with these hills. We had a good laugh over that.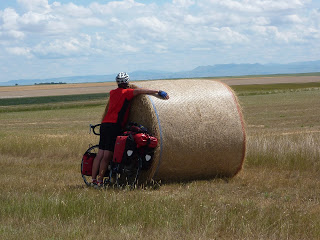 Eric loves him some hay roll.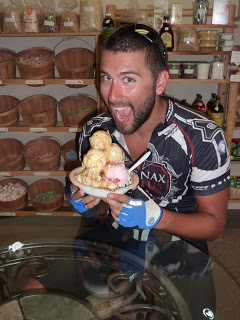 David ate the whole thing and got his name added to a short list of about 24 people who ate the whole thing without throwing up.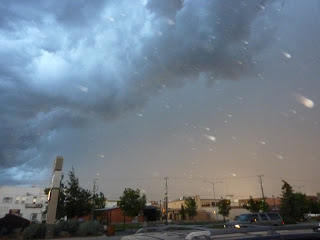 Karla got a great shot of the thunderstorm in Havre just as the big raindrops began to fall.