Karla: We arrived, at last, at one of the most beautiful parks in this country: Glacier National Park. I was filled with excitement; this was a world class tourist attraction and the location of what had been described to us as a breath-takingly gorgeous and harrowing ascent up to Logan Pass. But, I had already bought my Going-to-the-Sun Road bike jersey in Whitefish so there was no turning back now! We purchased our groceries for the next two days in Apgar (only $62.00 for 2 days of food) and headed to our first campsite, Fish Creek. Naturally, we had to go up and over a short, steep hill with a nice long descent to get to it. There was still room for us in the hiker/biker site and we started to ride to the site when suddenly a familiar tandem rolled up – it was the friends we had made from the Adventure Cycling cross-country tour! As travelers do everywhere, we had to tell each other where we had been, where we were going and exchange lessons of the road we had learned the hard way. Everyone was doing great so we hugged good-bye again and promised to keep in touch. The next morning was an early start so we could get up the road and past the portion where bikes were forbidden after 11:00am. We easily made it and had plenty of time to lollygag at a unique old lodge along the way at McDonald Lake. It was an old hunting lodge even before the area was a national park and originally accessible by boat only. A few photos and some snacks then on our way to the next camp, Avalanche Lake, which was to be our launch point for the final 16 mile leg of Going to the Sun Road the next day. Another great hiker/biker campsite and plenty of time to take the highly recommended hike up to the actual lake. The hike was about two miles and somewhat rolling with overall elevation gain but it terminated at an archetypal glacial fed lake, beautiful turquoise water banked by a cirque of craggy mountains with at least five gushing streams of snowmelt cascading down to the lake. Mesmerized, we sat gazing for at least a half hour. Back down to camp and dinner, then prep for our earliest departure, 7:00am! We had to be all the way to the pass by 11:00 before the cars only rule went into effect. We arose at 5:30 and were on the rode by 7:10. I was a little nervous but not nearly as much as on our previous big climbs….I was getting fit! Up, up we went, the sun rising as we climbed, revealing the deep forest greens and sparkling whites of the surrounding mountains and valleys. The air was still cool but we were sweating as we ground out the 4-7% grade. Three and a half hours later we summited Logan Pass! We were ecstatic and somewhat dumbfounded at how little we had suffered! I think the beauty had offset the pain, we had been transported.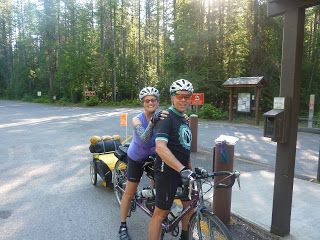 We looked so happy, the ranger took a picture of us.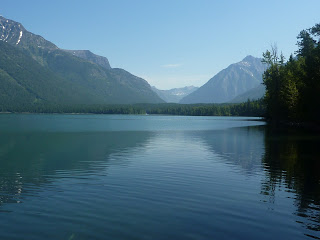 Lake McDonald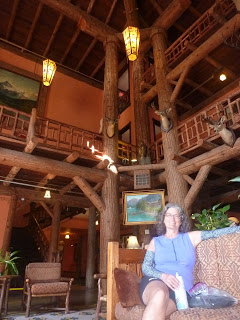 I look at home here in Lake McDonald Lodge, don't I?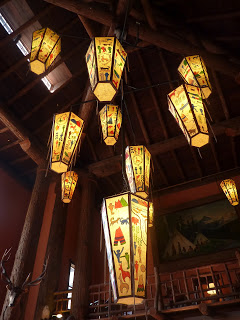 Extraordinarily beautiful lanterns, originally produced by the Blood Tribe.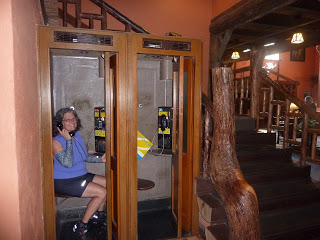 One ringy-dingy…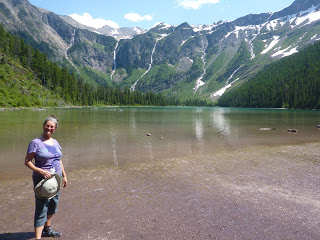 The beauty of Avalanche Lake. We never saw the bears or the cougar that everyone else reported to have seen on the way up.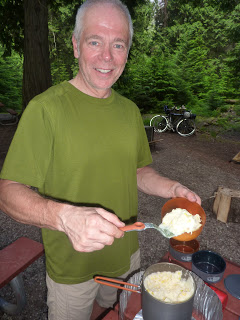 Scott's one pot meal – delicious!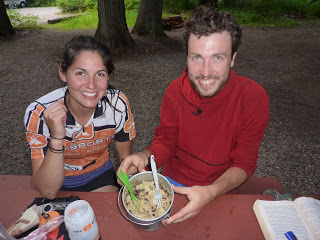 Marina and Jonny's one pot meal. This couple shared the hiker/biker campsite with us and they are from Portland!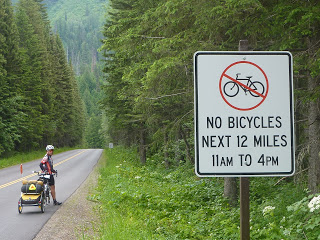 The point of no return.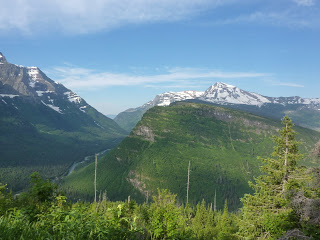 Up we go.
Mountain goat watches us "speed" by.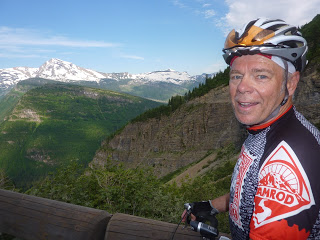 And the views keep getting better.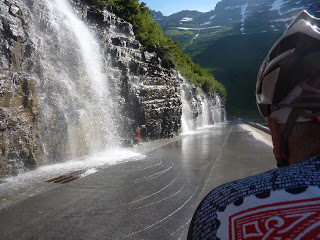 Weeping Wall.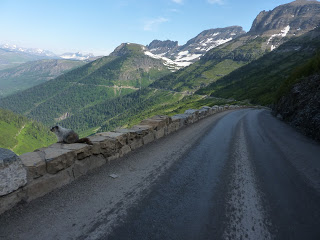 Hoary Marmot sighting. See the road we climbed?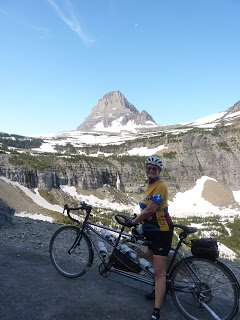 Almost there…the pass is just above my head.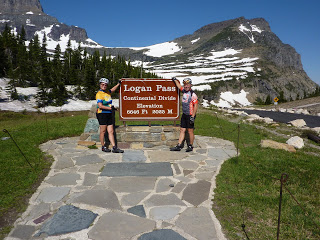 The highest pass yet!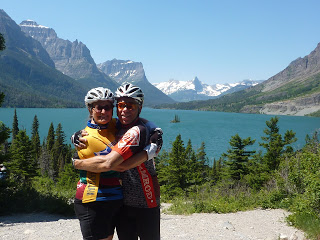 On the way down the other side.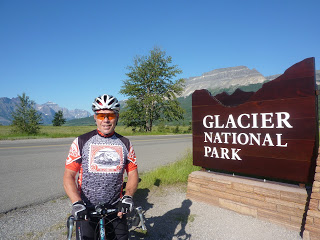 We say good-by to Glacier, USA.