Scott: We rode hills all day today. They were stiff hills, came as a complete surprise and I copped a really bad case of the whines. I thought I was back in Wisconsin. Unlike Wisconsin, though, these hills didn't just go up and down all day. Rather, they went up steeply, flattened a bit then went up steeply, flattened a bit then went up steeply and, finally, went down. Waves of climbing all-day-long. In 50 miles, we climbed 2300 ft. At one point, we were at almost 1,000 ft elevation. In Michigan? Tough, tough day. I certainly was glad when this day ended but I'm expecting more of the same tomorrow
We've been riding in the Michigan mitten (Just look at a map and see if you don't agree with me. It looks like a mitten) for only 2 days. In stark contrast to today, yesterday's ride was spectacular. We were riding along Lake Michigan on the east side of the mitten when the Northern Tier route that we're following was supposed to turn inland for 20 miles. We had stopped for a munchie when an interested dude asked us if we were going to ride the Tunnel of Trees. "Huh? What's the Tunnel of Trees?", we asked. "It's a scenic, narrow road through forest on the edge of Lake Michigan that is very popular with bicyclists and motorcyclists." After a few more questions we decided to go for it and were rewarded in spades. Many bicycles – check, narrow, smooth, winding road – check, tunnel of trees – check, glimpses of Lake Michigan from up high on a bluff – check, easy climbing – check, light traffic – check, shade in hot weather – check. One bike rider we spoke with said that this was one of the best bike rides in Michigan. I'll have to say that it was one of the grandest bike rides I have ever been on. It's perplexing why the Northern Tier route doesn't follow this marvelous road.
Prior to this, we rode in the Upper Peninsula (UP) of Michigan for a little over 6 days. One of those days was a rest day in Escanaba necessitated by the beating we took from those little bastard Wisconsin hills. The last couple of days there, we entered a region known as the north woods of Wisconsin. This was confirmed by a retired geography teacher who camped next to us one evening. He even knew that Portland was the City of Roses although he couldn't tell me why. In the north woods, the flowers along the road were replaced by ferns and the open farmland was replaced by dense woods but, sadly, the hills remained. In fact, our last day in Wisconsin, we traversed a continuous string of 7 – 14% hills. Ouch!
The UP was pleasant. The hills had mellowed and the forests became more predominantly fir trees. Wisconsin had many more deciduous trees like Maple and Oak. The folks of the UP are extremely friendly and have a wonderful sing-songy lilt to their speech with hard consenants and short vowels. I find it very pleasant and could listen to them talk all day.Our favorite campsite, to date, was in the UP. It was along the north end of Lake Michigan yesterday at an isolated primitive forest campground. We listened to the sound of waves all night and felt like we had the campground to ourselves.
The real UP treat, though, was spending time with our friends Dan and Shyla. They met us in Saint Ignace and we spent two nights camping with them. We took the ferry to Mackinac (pronounced "mackinaw") Island which does not allow motorized vehicles (only bikes and horse drawn carts) and is populated by well maintained large, turn of the century houses and a very touristy town center. We rode our tandem around the perimeter of the island with Dan and Shyla who rented tandem. Great fun. From there we ferried over to the Michigan mitten. We're planning to meet up with Dan and Shyla tomorrow and go wine tasting in the wine region around Traverse City. Now you're speaking my language.
Blogging at our favorite campsite. Write to a file then upload when we get an internet connection.
The northern Lake Michigan lakeshore at our favorite campsite.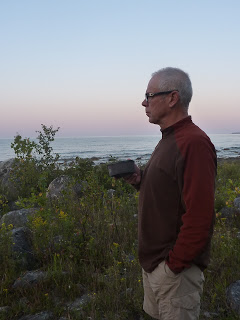 Contemplative morning.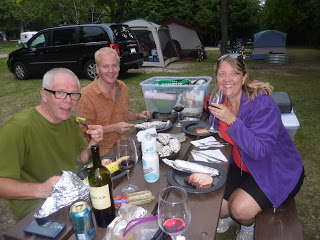 Yay, Dan and Shyla visit us and cook too.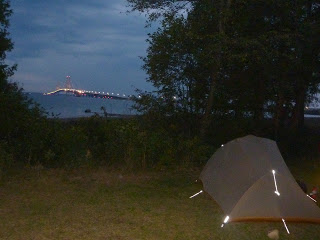 Mackinaw bridge from our campsite.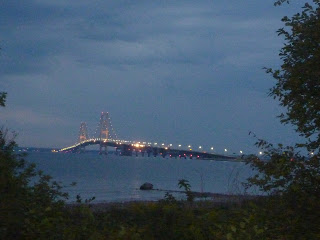 When it was built in 1957, the Mackinaw bridge was the largest span in the world.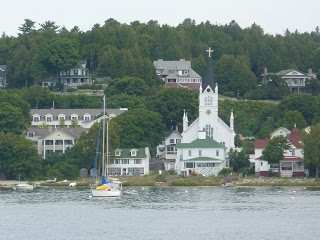 Mackinac Island homes.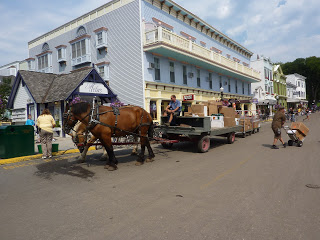 Even UPS uses a horse and trailer to deliver packages.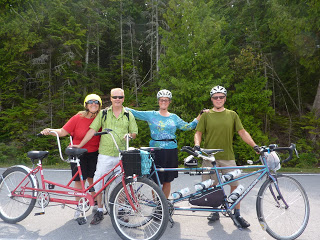 Tandem riding on Mackinac Island.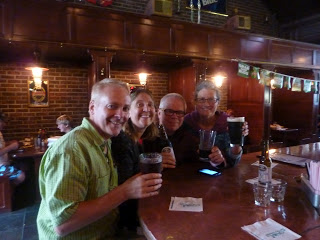 Tandem riding makes for thirsty-ness.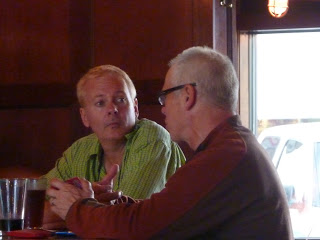 …and then he said…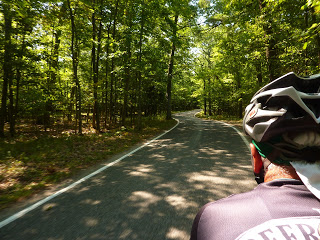 Tunnel of Trees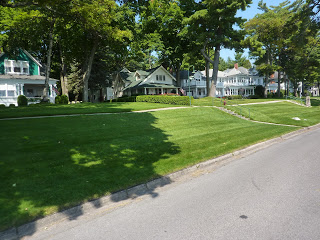 Huge homes in Harbor Sprngs MI that smelled of old money.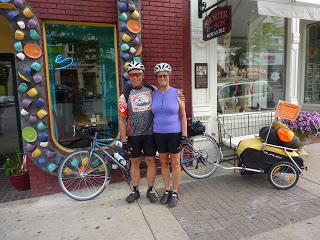 The coffee shop tandem duo.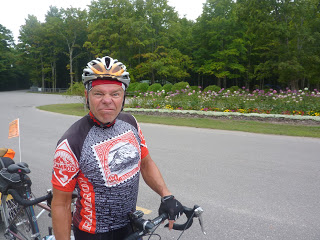 I don't wanna!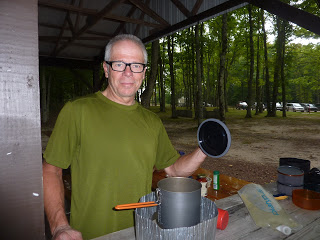 Cooking up another batch of one pot dinner.