Karla: Wow, more than a week since we were in the Canadian portion of Glacier NP and it feels like an eternity! It's probably confusing to go back in time, but I do want to share what a great experience we had with Lilly and Curtis. It was their first time camping and that made it so special; plus, we were in a gorgeous area. Once we had done our climb up to the border, admired all the wild flowers and herded the cattle, we dropped down into Waterton Lakes. Our first glimpse of it from high up one of the mountain roads was that of a wide valley with tall, jutting peaks surrounding it. We flew done to the valley floor and turned left into the park. A few miles and some short but stout rises and we were in the town of Waterton. A very charming town 4×6 blocks in size right at the base of a mountain range. So close, in fact, that wildlife wanders through the town regularly. We found a good restaurant and treated ourselves to dinner al fresco with wine and a fantastic view of lake and mountain. The next morning the sun was shining in a deep blue sky and as I walked out our door to find the espresso joint, I was bowled over by the strong fragrance of fresh evergreens – I could smell the forest! We organized ourselves and rode to the campground where we would meet Lilly and Curtis. We had plenty of time until they arrived so we grabbed some seats near the office and began reading. Pretty soon the manager, Larry, came out and we started talking. Next thing I knew he was serving us some of his home brewed beer in frosted mugs, showing us his nature photos and telling us all about the local sights, hiking trails and what to do when you come upon a bear. His camera was one of those 20 pound numbers with all kinds of special lenses and his shots were fantastic. He hiked daily and always had his camera with him; he knew his stuff! It was a good way to pass the time until L&C arrived. They finally pulled in around 7:00 pm and we set to making camp. Our sites were side by side and surrounded by tall bushes but we had a little passageway to each others' camp. Perfectly secluded with the feeling of being immersed in nature. We raced each other to see who could get their tent up first, of course we did, but they made a passable showing, especially considering their tent was rather large – at least the tallest one I've ever seen! They debated about using the rainfly and decided against it, probably so we could eat dinner before it got completely dark. They had gone shopping for all our food and boy did they bring the goodies! Coolers of food and drink, fire wood, camp chairs, stand-up barbeque, pots, pans, etc. – so much that they couldn't fit it into the car, they had to bring the pickup truck! They cooked steaks, salad, veggies, and s'mores for dessert. Delicious! We ate our fill and watched the fire die before turning in. We were all sound asleep when the thunderstorm struck! Lightning illuminated the sky and thunder cracked – we counted the seconds and decided it was close. Suddenly the downpour started. We popped our heads out and saw Curt setting up the rainfly in record time. I was really impressed with that tenderfoot, even though it was on wrong side out, the world's largest tent was dry! Next day we drove out to see the sights. First lunch in Waterton and a little walk about, then a drive to Cameron Lake with a finish at The Prince of Wales Hotel. We enjoyed the quaint little town, but our favorite part was the drive into the forest culminating at the lake. We passed up the paddle boats and started back, knowing Curt wanted to stop at one of the historic markers detailing the history of the first oil derrick in Western Canada. It had been erected at the site of some seeping oil but the area was so remote it was never a profitable well. We turned from peering down the hole and bingo – a black bear strolled out of the trees about 20 feet away. Scottie quietly said "There's a bear!" We all looked and then two cubs appeared, one black, one brown! My mind raced as I tried to remember what to do when attacked by a black bear vs a grizzly: roll into a ball or fight back, look into the eyes or don't look, fight or flight??? We started to walk away, not too quickly, and look back surreptitiously – staring but not into the bear's eyes. It was so exciting!!! The bears paid us no mind whatsoever….we made it safely to the car. That was the highlight, that put the icing on the cake. We were awed. That night we put all the wood on the fire and watched it burn bright as we retold the details of our great encounter.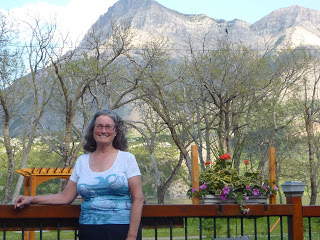 Dinner with a view in Waterton.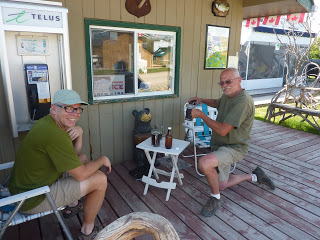 Larry really knows how to serve guests!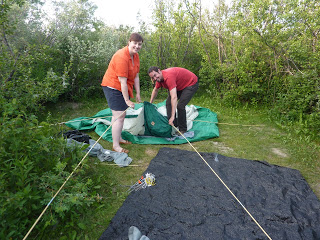 Check the length of the poles and note the size of the black mat for the vestibule.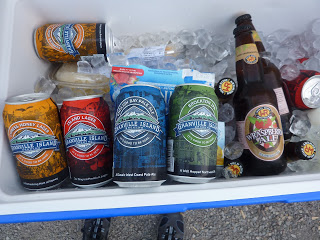 They brought a full sampling of Canadian beer .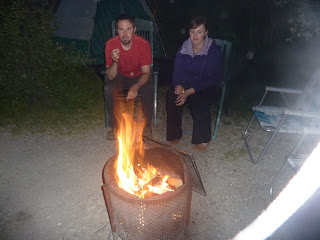 If you use enough kindling you can get a fire going.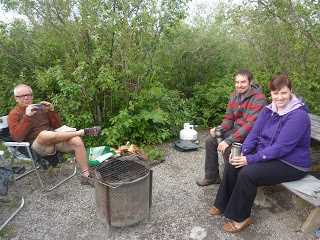 Nothing like morning coffee out in the great outdoors!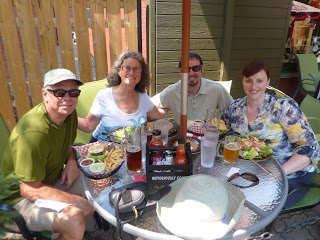 Bison burgers at Trappers Restaurant in Waterton.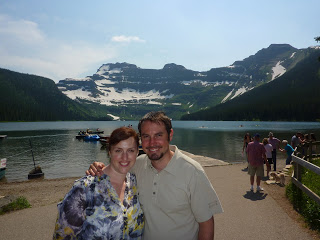 The perfect setting for Lilly and Curtis.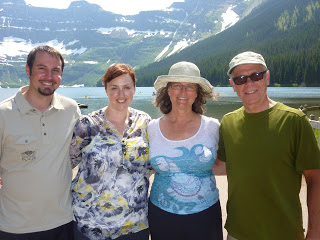 Cameron Lake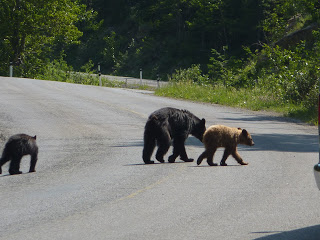 Bear sighting!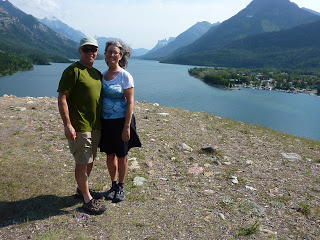 More beautiful lakes.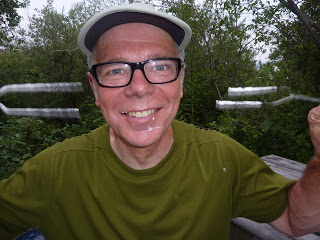 That white stuff is the residue from some great s'mores .Notice the official s'more skewers.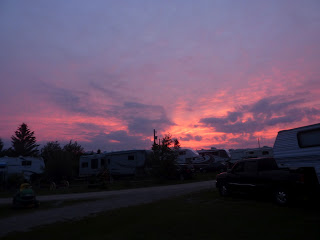 The end of our day.