Scott: We have, at long last, put the Great Plains of North America behind us. Three days ago, we entered the forest and lake country of Minnesota. Pine and deciduous woods dotted with blue lakes fringed with a beard of dense, green whips of wild rice plants are now our constant companions. We have had the luck to camp beside these lakes where the distant, mournful warble of the Loon's song tucked us in at night and gently awakened us in the mourning. We've been following the Mississippi river for 2 days. Yesterday, we were calling it the Mississippi creek since it was so small. Today it broadened so let's call it the Mississippi stream. Two days ago, we stayed in Itaska State Park where we visited the headwaters of the Mississippi or Mee-zee-see-bee the "Father of Waters" as the Chippewa called it. What a scene. Hordes of sightseers milling about the area with their screaming kids wading in and out of the water as it emptied from Lake Itaska and flowed across a little rock jetty toward the 2500 mile journey to the Gulf of Mexico.
That day was also a sad one for us. We said goodby to our companions of 3+ weeks. Eric and David Sassaman were heading off in a more southerly direction to meet David's future in-laws and then on toward their destination of Michigan. We're already missing their joie de vivre, good cheer, addictive humor, positive outlook, love of eating and companionship. I still chuckle when I recall how they referred to weathermen as having graduated from clown college yet followed the iternet weather forecasts hourly and based their plans on those forecasts.
Our fitness continues to improve. We are now riding further with much less physical stress however our butts are still suffering. Today we rode 70 miles and yesterday we rode 61 miles in short order. We would have gone further yesterday if not for the poo incident. You'll have to ask Karla about that since I've been sworn to secrecy. We found a bike store in Grand Rapids, MN (today's camping spot) that sold us a tube of chamois cream (Butt'r our favorite) just in time since our current tube is running low. It was a special order that was never picked it up. Woohoo, clean living triumphs again!
Tomorrow we head south toward Minneapolis/St. Paul. We'd like to pay a visit but riding our loaded tandem into that megalopolis is not appealing so we plan to skip it. In about 4 days we'll ride into Wisconsin. The maps warn us that the hills there will be steep so we're steeling ourselves for that future pain.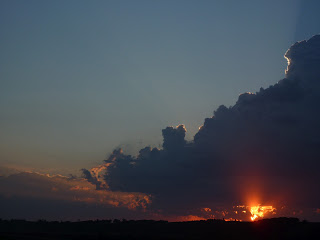 Good night and good bye SD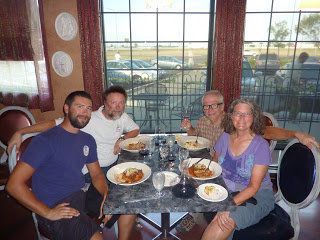 Sharing our friends favorite pastime…….eating.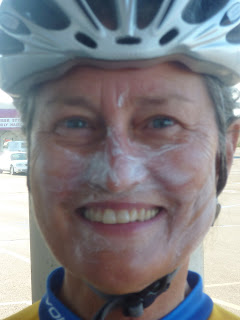 Goopy girl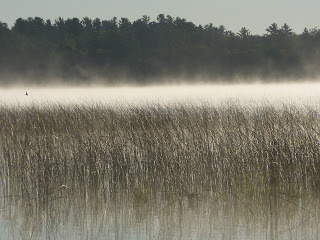 Ah, the lakes of Minnesota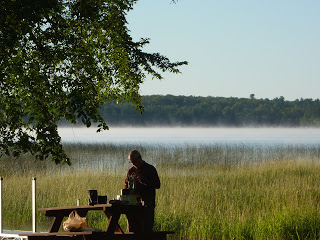 Cooking breakfast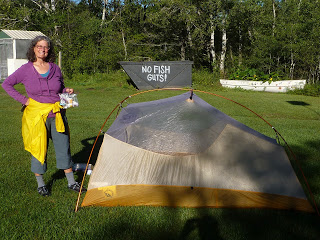 No guts, no glory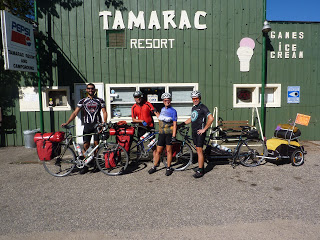 The start of our last ride with our new found friends.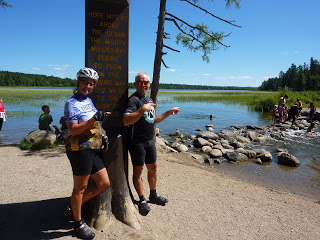 The headwaters of the Mee-zee-see-bee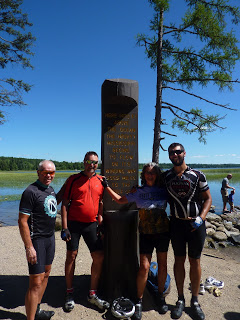 Good bye and good luck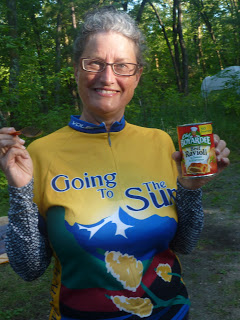 From the ridiculous…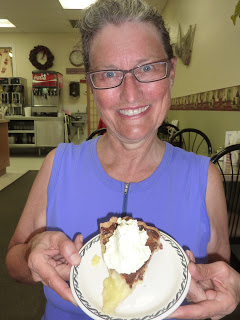 …..to the sublime. Buttermilk pie.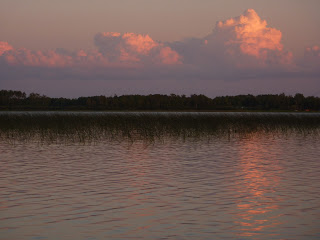 Sunset over a Minnesota lake.