Karla:
The end of the rest day and I am finally starting to feel energized. Maybe the delicious dinner and bottle of Prosecco we just finished helped the revival, too! This past week was challenging for me but jam packed with beautiful scenery and interesting encounters. The days were filled with the most wonderful smells, wild roses, western dogwoods and pine needles; endless(!) views of mountains, meadows and flowing water; and the sounds of crickets and bird songs. We had an exceptionally fine camping experience in Ione at the Cedar RV Park. Gabe and Linda run the place and they were hosts nonpareil! When we first pulled in we were greeted by a big, friendly teddy bear of a guy, Gabe. He had a serious twinkle in his eye and made us feel practically like family right away. The tent sites were actually in their back yard which was flat, clean grass with a few towering cedars and bordered by flowers. There was a hammock, gas barbeque, utility sink for dish washing, laundromat with cable TV and free wifi. The bathrooms were spacious and looked like something from Country Living, plus immaculately clean thanks to Linda, his wife. She was just as friendly and accommodating and ran their gift shop, too. Their whole operation was incredible. They even had a coffee pot on their back deck which they turned on as soon as you showed signs of life in the morning. Gabe was one of those guys who is always doing something. We watched him buzz around the property on his little four wheel ATV cleaning and organizing this, that and the other. His garage was the size of a small warehouse and contained his 4-wheel drive pickup, speed boat, rubber raft, front loader/backhoe combo and about a thousand tools, including everything necessary for fine wood working. Needless to say, his nuts, bolts and nails were organized by size and shape in hundreds of little drawers. The only thing he didn't have was the white outline of his tools on peg board! I'm poking fun because he was the nicest guy. He told us he liked to get all his work done in the morning so he could drink wine in the afternoon – and sure enough we saw him with his glass of rose' getting ready to bbq steaks that evening. Really a special spot for us and our riding buddy Bob.
The day we left Ione we had a very scary experience on the bridge out of town. It was a steel grate bridge which was under construction and narrowed done to one lane with steel plates for the cars to drive on. We had to thread the needle and fit our bike and trailer between the plates. It had been raining and the metal was slick. The crosshatch pattern of the grates grabbed our front wheel and initiated a harmonic motion that wouldn't stop. We even caromed off one of the plates as Scottie tried to steady us and keep us from going down. I was truly frightened but could not react in any way which would add to the instability. Fortunately, Scottie was able to keep us from going completely out of control and finally we rode off the bridge safely. At that point, Scottie broke into hysterical laughter as relief washed over him! By far the scariest thing that has happened to us on our tandem. Ever.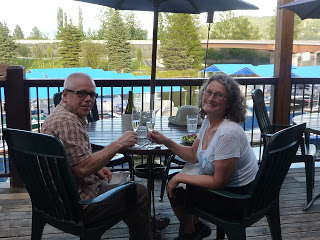 Nothing like a little bubbly to get back to normal.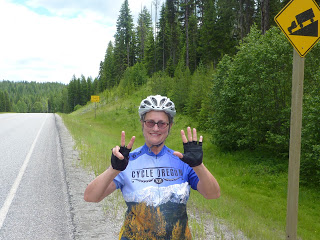 Victory over five passes!!!!!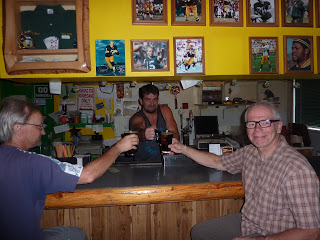 Whoda thunk there was a Packers' bar in the berg of Ione? We had to go for our friend Bob who lives in Wisconsin.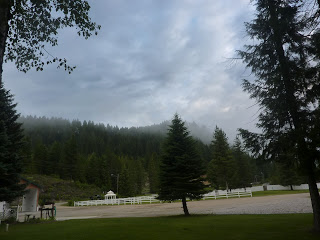 Morning view from Cedar RV Park.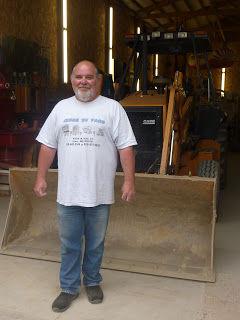 Teddy bear Gabe.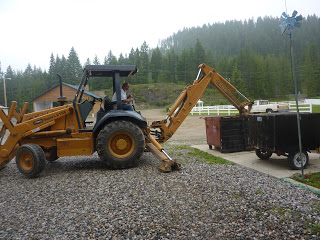 Gabe's trash compactor.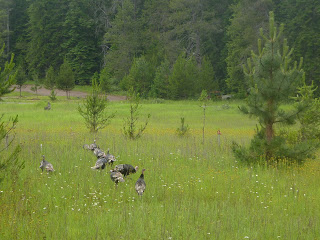 The elusive wild turkey.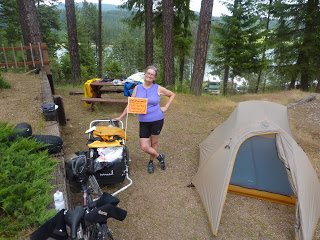 Spectacular view from our campsite high above the Pend Oreille River.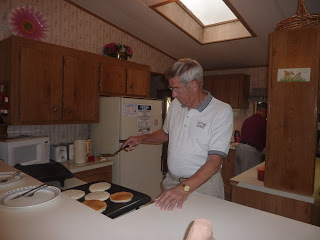 Benefits of staying in an RV Park hosted by snowbirds – all you can eat pancake breakfast for $2.00.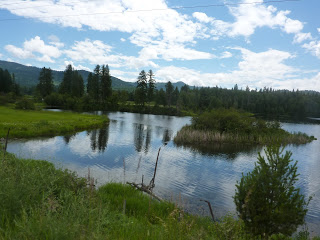 Pretty Pend Oreille.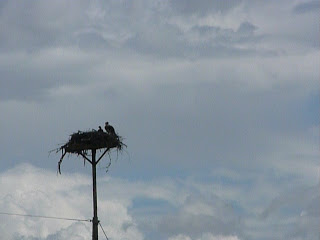 One of four osprey nests within a mile of each other. Movie below of the birds in the nest.
Unusually large skeeters around here – and they give milk.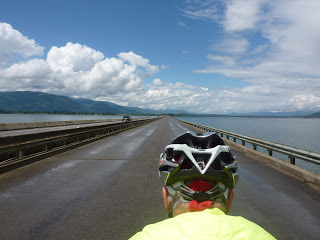 Riding the causeway into Sandpoint, Idaho. The road is wet and so are we due to a torrential downpour ten minutes prior.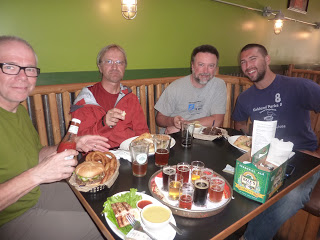 Scott, Bob and David and Eric, a father and son team riding to Michigan. Oh, yeah, in a brew pub.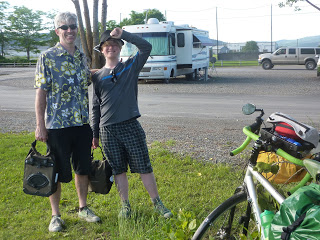 Another father and son team, Gordon and Cal, who are riding to New York. Cal is 12 years old! Really sweet to see his dad with his hand on Cal's back going up a steep section of the route.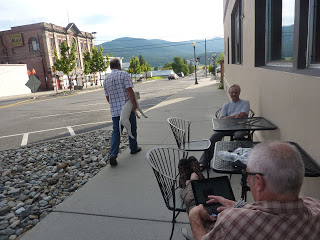 This is how you walk your dog in Coleville. We are getting free internet outside a closed coffee shop just so we can blog.